This week we spoke with Nicolas Rabrenović – the CTO & Co-founder of Edda about the challenges of working at a fintech startup in the development phase.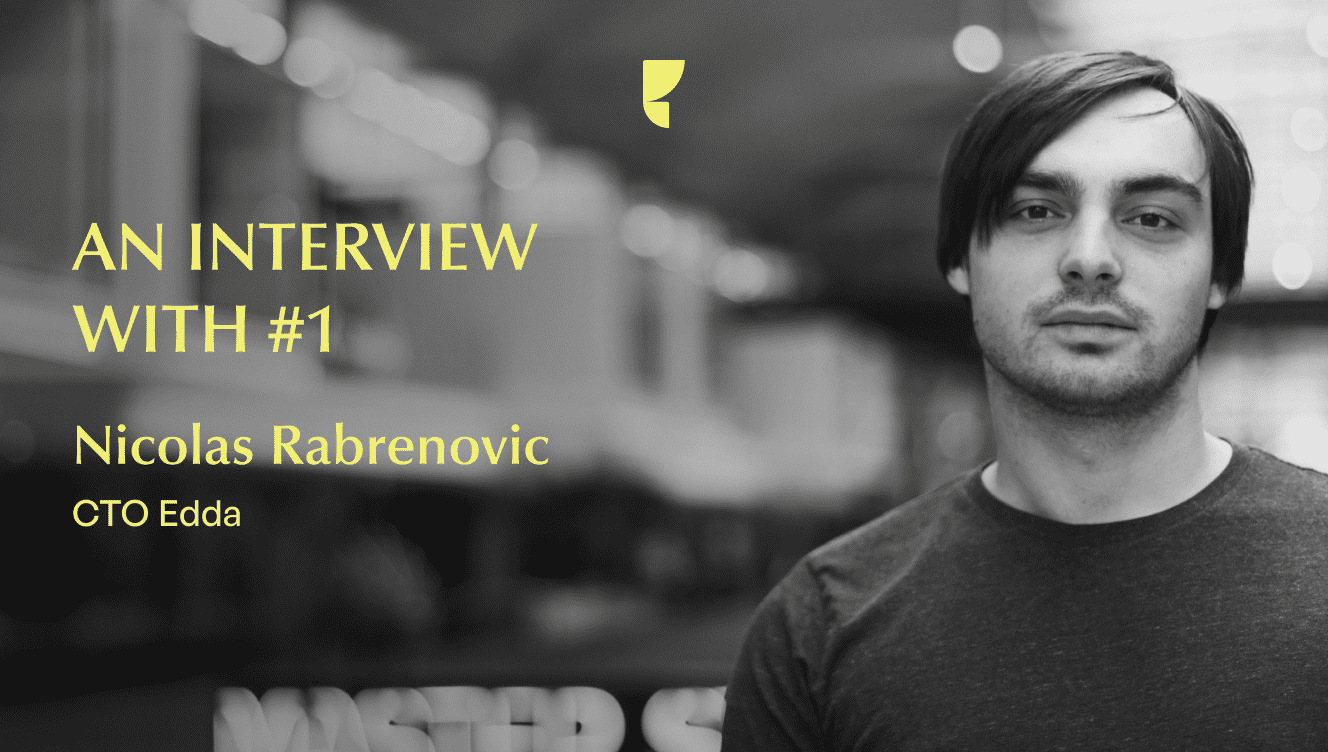 Can you introduce yourself ?
Hi, I'm Nicolas, Co-founder and CTO @Edda.
What's your background ?
I'm passionate about science, technology and finance. When I was a kid, I was a geek who participated in chess tournaments, made websites for pocket money and learned about the stock market. I have never been passionate about school but somehow I graduated with a double Masters in technology for Web School Factory and HETIC in Paris.
During my studies in Paris, I met Clément Aglietta, Alexandre Crenn, Victor Espinet and Josselin Lebail. And this is where the story of Edda began.
Describe a day in your life:
On some days, I am in Paris with the management team and on other days, I am in Belgrade with the tech team.
When you work in a tech startup, you get exposed to new topics everyday and that keeps your day more dynamic.
My typical day consists of making sure that the company can grow safely, the work flow with the team is smooth and that everyone is aware of the next steps.
I have a final word with the team about the technologies we will use in order to help the strategy side on every topic related to tech.

Additionally, I talk to our customers if they have any questions on the technical or security side.

Obviously you have a technical background but as a founder you also do sales. Is there anything that you like about sales?
I believe that as a founder of a startup you have to do a lot of different things and that includes sales. I have been an entrepreneur since I was 18. Since then I have been very active in technology and sales. It feels natural to me.
Moreover, it helps me to be in touch with our customers and know what our customers really want. So, it's important for me to keep this contact with the end user.
How do you balance sales and tech?
That's a tough one. Without tech there is no product, so you have nothing to sell but without sales you ultimately have no tech.
Therefore, it's a balance that you have to find. During the initial years at Edda we were trying, learning, failing and repeating. Our main focus was almost exclusively on the product. However, things are much different today, we are now a profitable company and we're in the development stage.
The team is growing and we have new challenges as well as new topics such as tracking performance of our marketing efforts, integration with third parties, enterprise deals and so on.
What are your most important challenges ?
As a B2B SaaS platform in Fintech, security is one of our biggest challenges. Indeed, we really need to be top notch on this particular topic.
It requires us to be up to date about cyber security news and make sure that we are compliant with the latest security measures.
The platform is used everyday by VCs, Corporate VCs, LP's, business angels and even banks. They are trusting us with their processes and data. Therefore, it's our job to make sure that everything works properly and our platform is secured.
Another challenge is to hire great people for our team, I say people because it's not just about being a good programmer or a designer, it's not only about skills, it's also about communication, independence and having the collaborative mindset.
What are your personal values that you would like to transfer to the entire company?
Freedom is very important to me. For instance, at Edda we're encouraging everyone to be free to say what they think, as an intern or a CEO. Everyone has the power to influence the company. This is important for information to flow easily in the organization but also for everyone to feel good.
We're almost a flat organization and I really believe this helps to avoid ego related issues and micro management.
Talking about management, do you have any mentors that inspire or guide you ?
I don't really have one mentor, I try to analyze and learn from my surroundings to see what works and what doesn't. I read a lot and this is where I find life lessons.
But, there is one person who has taught me a lot and it's my father. He infused his business experience, tips, information and stories to become who I am today.
What is the most valuable lesson you learned as a CTO?
With the right team, you can create amazing things and thankfully at Edda, we have the best team.
_________________
Thank you, Nicolas!